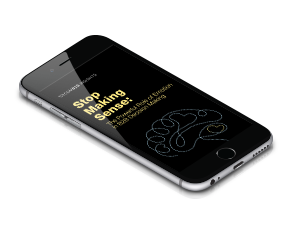 What's included in this guide?
As marketers, we're not in the room when our customers' buying decisions are made, so we don't know what factors ultimately made the difference. But the TriComB2B team has gathered the latest decision making and marketing studies from sources like Harvard Business Review, CEB and Google to create Stop Making Sense: The Powerful Role of Emotion in B2B Decision Making.
Why use emotion in your B2B marketing strategy?
It's likely no one in the history of business-to-business marketing has purchased a product directly from an ad. But they may have purchased based on a gut feeling — which they may have started to feel after seeing your marketing.
Your headline and copy must extract an emotion about your product and your company, directly tied to visuals, in fewer words than we've used in this sentence. Writers know to their chagrin that almost no one reads the full body copy or article; most readers skim. They spend their time exploring the handful of emotional words that explain why what you do matters.
So, stop being totally level-headed when it comes to your B2B marketing approach. An emotional approach is far more rational.
Who is TriComB2B?
TriComB2B is a business-to-business marketing agency focused on technical, industrial and considered purchase companies just like you. We're your resource for B2B marketing strategy and communications that respond to the constant changes in your industries. We promote industrial and technical products and services with the unique requirements of B2B.
With a team of engineers, technically oriented industry veterans, imaginative creatives and savvy interactive developers, TriComB2B can effectively complement your internal marketing resources or manage every aspect of your marketing programs.
Learn more at tricomb2b.com.