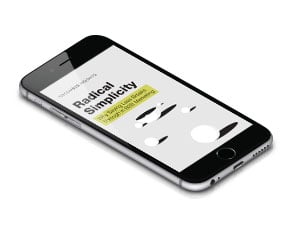 What's included in this guide?
In B2B, it's tempting to over-deliver on information. We THINK our audiences need all of this to analyze their options. But it's not true. Our paper, Radical Simplicity: Why Saying Less Breaks Through in B2B Marketing, advocates a different approach. It includes brain science, business studies and ideas on how to keep your marketing super simple – and by extension – your customers, super happy.
Why simplify your B2B marketing strategy?
In industries where the product options are numerous, the specifications highly technical and the applications infinitely complex, it's tempting to over-communicate. But research tells us customers often feel overwhelmed when making complex purchase decisions, and marketers haven't been very helpful in relieving that anxiety. Ultimately, B2B decision makers just want to be pointed to good answers to their questions. Radical simplicity in marketing communications is the only way to break through the noise and guide a customer to a buying decision.
Who is TriComB2B?
TriComB2B is a business-to-business marketing agency focused on technical, industrial and considered purchase companies just like you. We're your resource for B2B marketing strategy and communications that respond to the constant changes in your industries. We promote industrial and technical products and services with the unique requirements of B2B.
With a team of engineers, technically oriented industry veterans, imaginative creatives and savvy interactive developers, TriComB2B can effectively complement your internal marketing resources or manage every aspect of your marketing programs.
Learn more at tricomb2b.com.